We all know that Mavs fans have been making this face a lot lately: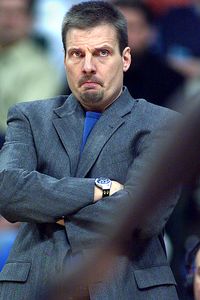 ...but it's time to turn that frown upside-down, because someone has put forth some great - no, FANTASTIC - ideas on where to go with the Mavericks' roster!
I found this little gem buried on espn.com's comments section in a
piece
that Skin wrote about how to get the Atlanta Hawks' Joe Johnson to the Mavs.
It seems an armchair general manager by the name of "GrenceHarvey" has a pretty radical idea that nobody in the Dallas area or the sports media on the local or national level has even begun to consider yet. Instead of Joe Johnson, why don't we try and get someone
better
than Joe Johnson? Better yet, the argument is in all caps! I'll admit that definitely increased its effectiveness.
Keep in mind this was written between games 5 and 6 of the Cavs-Celtics series, so LeBron was still in the playoffs but the Cavs looked extremely vulnerable.
OK, enough with the backstory already!!! Let's get to the master plan! Hit it, Harvey! (His comments are in bold text, with my interjections in good ol' Mavs blue!)
if i were the GM of the team, i'll do his like this:
1.) IF THE CAVS WONT WIN THE TITLE THIS SEASON, IM SURE LEBRON WONT EXTEND HIS CONTRACT WITH THEM. SO HE'LL BECOME A GREE AGENT.
Not sure what a "gree agent" is, but I think we all agree he'll be bidding farewell to the land of Cleve! I mean Cleveland you guys!

2.) NOW LEBRON IS A FREE AGENT, I'LL SIGN HIM DIRECTLY.
Hey! Not a bad plan. I hear he's good!

3.) NEXT IS THIS: I'LL TRADE SHAN MARION AND HAYWOOD OR DAMP FOR KAMAN.
He's talking about the LA Clippers' Chris Kaman who plays center. Technically Brendan Haywood doesn't have a contract with the Mavericks, so we don't know how much he would make if Dallas did re-sign him, but let's assume he and "Shan Marion" make roughly the same that Kaman does. Great trade! With Blake Griffin back and impervious to future injury, Donald Sterling doesn't need a backup center.

=SO THE LINEUP WILL BE LIKE THIS:
PG= KIDD SG=BUTLER SF=JAMES PF=DIRK C=KAMAN
BENCH: TERRY, BEAUBOIS, BAREA, NAJERA, HAYWOOD OR DAMP, THOMAS, STEVENSON, CARROLL.
Wow! Great job, GM! Where's the line for season tickets?!

BUT IF THE CAVS WILL WIN THE TITLE:
1.) SIGN DWADE RATHER THAN JOE JOHNSON... DWADE: MUCH YOUNGER, TOUGHER, SCORER...
"DWADE" is referring to the Miami Heat's Dwyane Wade. And if "seven months" is a lot younger, then you're absolutely correct, Harv! Looks like the court has ruled a unanimous decision in the case of "Joe v Wade"!!!

2.) TRADE BUTLER AND HAYWOOD OR DAMP FOR KAMAN OR DAVID LEE.

No arguments here! Although I'm a little surprised you got the Knicks to give up their best player. Well, I guess he's not the best player once they sign LeBron! Oh, wait, you said he's staying with the Cavs in this scenario. Did they get Dwyane Wade then? Hold up - he's with us. Well I guess they just got tired of underpaying him and let him walk. Your negotiating skills never cease to amaze me!

LINEUP:
PG KIDD, SG WADE, SF MARION, PF DIRK, C KAMAN OR LEE
BENCH: TERRY, BEAUBOIS, BAREA, NAJERA, HAYWOOD OR DAMP, STEVENSON, THOMAS, CARROLL
Wow! Will this team EVER lose?! I know you kind of glossed over the fact that four of those guys are currently free agents, but I suppose you're just so good of a GM that you re-signed them all without so much as a mention!

So there you have it. The future is bright for your Dallas Mavericks, so get ready for our string of multiple championships!